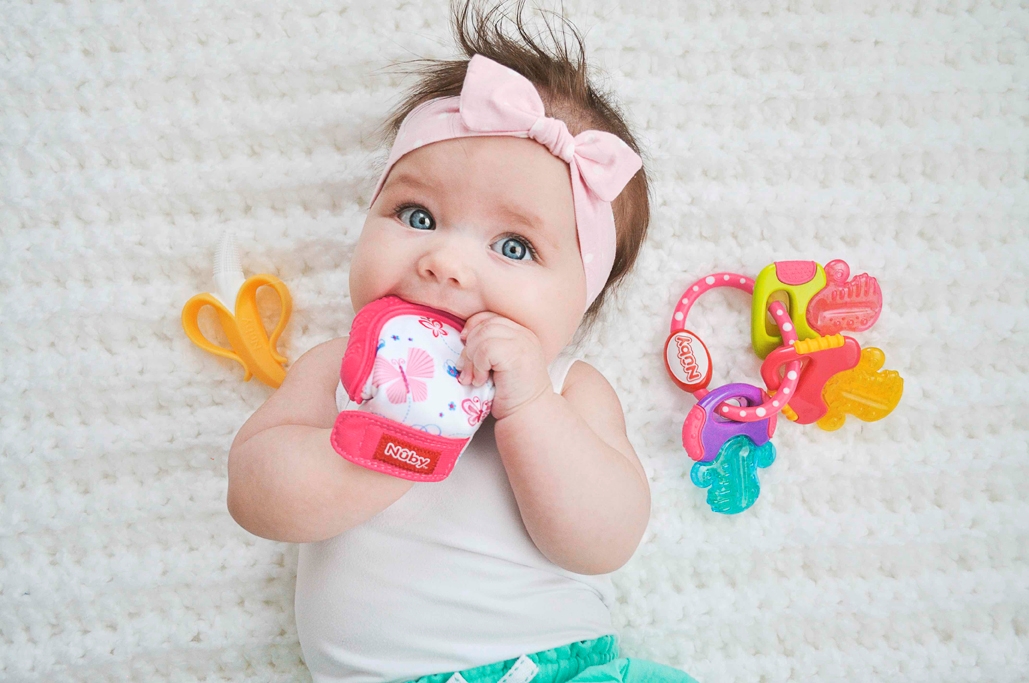 As a new parent, it's natural to wonder when your little one is going to reach their first milestones and what to do when he or she gets there.

Teething is when your baby's teeth start to come through their gums and it's a key time for every child.

Every baby is different and there's no one size fits all when it comes to getting their first teeth.

It's totally normal for teething to happen any time from around 4 months, up to a year, or even a bit older. For most babies, it's around the 6 to 9 month mark – but don't worry if it's earlier or later.

At Nuby, we know it can be hard to know what to do, especially when your little one isn't feeling the best. But help is at hand!

In our guide to teething, we've got plenty of advice and tips to get you through the tricky teething stage.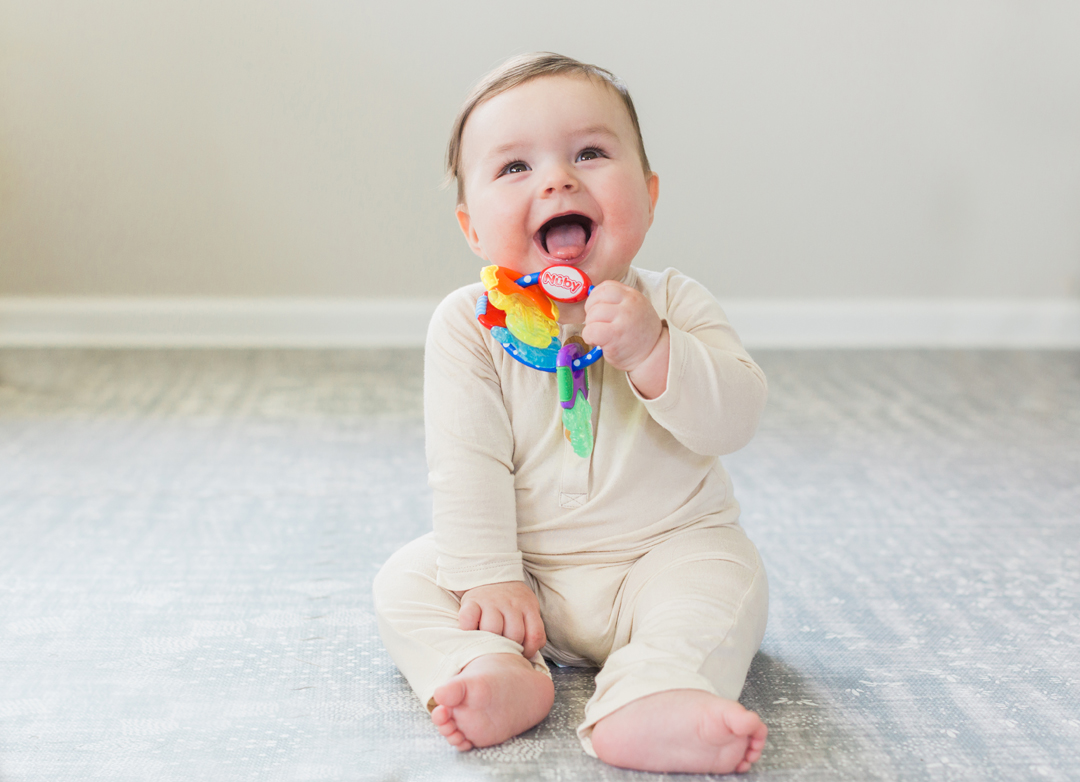 Signs to look out for
When baby starts teething, sometimes they won't feel any pain or discomfort. But because they can't tell you what they're experiencing, there are some common signs you can look out for.

Teething can be a really dribbly time, so be prepared for lots of it.

You may also find that they are feeling more irritable, crying, restless, reddened cheeks, sore gums, off their food, unsettled nights and chewing.

If you notice any other symptoms or you're worried about anything, get in touch with your GP.
What order do teeth come in?
Typically you'll see baby's bottom front teeth (incisors) come in first, usually around 5 to 7 months. The top front teeth tend to come through at about 6 to 8 months. Teeth tend to emerge in pairs.

Don't worry if your baby doesn't follow this exact timeline or order, as like with all the milestones, every baby is different.

The top lateral incisors (either side of the top front teeth) typically come in next, from around 9 -11 months, followed by the bottom lateral incisors (either side of the bottom front teeth) anytime from 10 – 12 months.

So, then baby will have a little row of four top and bottom teeth and you'll notice that adorable toothy smile!

The first molars (back teeth) tend to come through when baby is 12 – 16 months and canines (towards the back of the mouth) appear between about 16 to 20 months. The second molars are later (around 20 – 30 months).

By the time your baby is between 2 ½ and 3, you can expect them to have their full set of 20 milk teeth.
Can my baby be born with teeth?
It's rare for your baby to be born with teeth, but it can happen. Don't worry if it does, get baby booked in for his or her first dentist's appointment so they can check things over.

Your dentist will be able to advise you on what to do and usually the teeth are left in place. The only exceptions might be if the tooth is mobile and there is a risk of inhalation, if it is rubbing on the tongue and causing an ulcer, or if it is affecting feeding. Your dentist will also be able to give you some tips on keeping the teeth clean in a gentle way.
When do I start brushing baby's teeth?
Baby will benefit from good early dental care and you can start brushing your baby's teeth as soon as they come through. It is important to get your little ones used to brushing as part of their daily routine.
You could start your baby's brushing routine by using our Nuby Baby Toothpaste with Finger Brush The Nûby™ Baby Toothpaste with citroganics that is formulated to be natural with a Vanilla Milk Flavour. Safe if swallowed, Nûby's Baby Toothpaste is Fluoride Free, and Non-Toxic. When using Nûby's Baby Toothpaste you can be confident that your child is not being exposed to harmful chemicals. Nuby's Finger brush is made from extra soft silicone (BPA Free). The Finger brush is used to cleans and massage baby's gums.
Soothing your teething baby
If you're going through the teething phase, you may be wondering how to comfort your little one.

Here at Nuby, we have some great ideas for things you can do to make it easier for your baby, and as with all things baby, it's about finding what works best for them.
Teething Gel
Our Nuby Teething Gel is a Fast Acting Pain Relief formula that is for both Day and Night. The Teething Gel is formulated to be natural and safe if swallowed. The Gel soothes sensitive gums, guards against infection and helps prevent tooth decay.
Teethers
Teethers help to soothe baby's gums and give them comfort and relief.
The new Nûby™Chewbies™ teether's unique textured design provides comfort to baby's delicate gums. It provides stimulus to the lips and tongue which promote the transition from nursing to chewing.
Teething Mitten
Nûby's Happy Hands™ Teething Mitten provides an innovative way to relieve and soothe your teething baby! The soft, flexible mitten is a solution for babies who cannot keep hold of teethers, while also protecting baby from chewing on their hand.
Teething Bibs
The Nûby Bandana Teething Bib is ideal for babies that are teething and drooling. The bibs is made from soft, absorbent cotton, keeping your baby dry while the secure Velcro fastening keeps the bib in place no matter how much they wiggle and jiggle about. The handy, multi-textured, silicone teething corner, that baby can chew on, soothe sore gums & help new teeth break through.
Top tips
Use a baby bandana to stop clothes getting soaked. These bandana bibs are perfect for big droolers and teething tots.
Keep teethers clean using our Pacifier & Teether Wipes with Citroganix, which are made with a safe, non-toxic formula.
Give our handy Teething Mitten a go if your baby wants to chew everything they can get their little hands on!
Remember that this phase won't last forever (a good tip if you're experiencing a few broken nights!) – lots of cuddles with help you both.